The dog is trying to comfort the boy
The content of the video clip Sweet mama dog interacting with a beautiful child with Down Syndrome (rough translation: Big sweet dog patting a cute boy with Down syndrome) is a boy about 3-4 years old, suffering from the syndrome Down syndrome, sitting in the corner alone and next to a dog with a body twice the size of the boy, trying to find ways to get close to him and pat him lovingly.
From the place of refusal, trying to run away at first, the boy gradually accepted to let the dog put his paw on his shoulder to pat, then there were friendly "handshakes" between the two friends.
And the most touching part is when the boy rests his head and hugs the dog, showing that the dog has really been accepted by the boy as a trusted friend.
"I cried, oh my god", "The dog is really doing a better job than humans in therapy like this"…, thousands of comments from viewers around the world have shown. a profound emotional upheaval between humans and animals can be.
The dubbed version of the song You are so beautiful to me (You are so beautiful to me) posted online in mid-April 2013 has caused the online community to shed tears at the magical closeness between humans and animals. . In just one day, this video clip's traffic skyrocketed from 2,000 to 75,000.
Previously, the original version (without dub) posted online since August 2012 has reached 1.4 million views.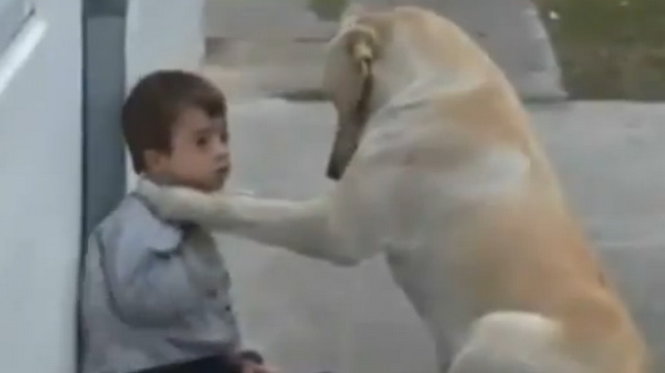 Phóng to
The dog has cuddling actions, making friends with the boy


Dubbed version of the song You are so beautiful to me (You are so beautiful to me)

In Vietnam, this video clip has also made many young people have a different view of animals. Do Thi Tu Oanh (student at University of Economics in Ho Chi Minh City) said: "I was very afraid of dogs before, especially big dogs like that, but after watching this clip, I think dogs are a couple. when it is the best and most understanding friend with people." "What I see are two people" – you have the nickname Myn Carrot wrote. And a friend with the nick name Tu Trinh had to say: "I've watched it for the 8th time"…